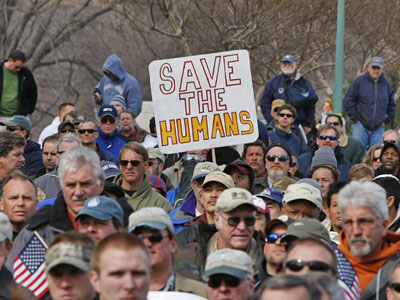 AP/Luis M. Alvarez. One sign at the rally of recreational and commercial fishermen summed up the feelings.
Fishermen protest law that closes many areas to fishing
By SANANDA SAHOO
McClatchy Newspapers

Fishermen, anglers, charter and party boat captains and marine business owners from coast to coast gathered here to demand changes in fisheries law that they say is putting them out of work.

This year and next, endangered coastal fishing grounds in the Atlantic and Pacific oceans are to be closed to allow depleted fish species to recover from overfishing. The closures could be as long as 10 years.

"A lot of coastal communities across the United States have had severe negative economic impacts from the excessive regulations," says Pam Anderson, the operations manager at the Capt. Anderson Marina in Panama City Beach in Florida. "Folks can't carry on."...
Read More: Fishermen protest law that closes many areas to fishing - KansasCity.com
---------
United We Fish. Fishing interests rally to to protest oppressive management of saltwater fisheries

By Robert Montgomery
ESPNOutdoors.com


During the rally, fear of that collapse "showed on the faces of grown men in tears, who are afraid that they won't be able to do a job that they love and support their families," Chaconas said. "And what I realized from attending this rally is that this is not just a saltwater fishing issue.

"If these guys can't fish, even people in Middle America are affected. They won't be able to buy and eat American-caught fish. They'll have to get it from someplace else. That's yet another threat to our economy."

But tears were outweighed by enthusiasm and applause on this rare day of moderate weather in the nation's capital. And it ended on a decidedly upbeat note, according to Hutchinson.

"Scott Brown, the new senator from Massachusetts, showed up and it was like having a rock star," he said. "He's going to sign onto the bill.

"And when the rally was over, he told his constituency to follow him back to his office."
Fishing interests rally to to protest oppressive management of saltwater fisheries